Our Vets
Ben Mayes MA VetMB MRCVS
Clinical Director
A Cambridge University graduate Ben dabbled in small and mixed practice before returning to his Mid Surrey pony club roots in equine practice on the Surrey/West Sussex border. This is now Mayes & Scrine Equine Veterinary Practice, a 5 vet RCVS PSS tier-2 100% equine practice with purpose built clinic facilities. He is a true equine general practitioner with clients from all disciplines of equine sport and is equally happy with routine call outs or out of hours surgery. Ben is married with three children.
Ben joined the British Equine Veterinary Association Council in 2006 and was the 51st president which culminated in the 3 day congress at Birmingham ICC in September 2012 with some 1200 daily delegates and with the HRH The Princess Royal attending. With 2500 members BEVA represents most UK equine vets, liaising with the rest of the profession, government, the horse industry and internationally. He has headed up the welfare portfolio, Safer Horse Rescues, insurance matters, the New Grad programme and chaired BEVA's policy committee and Board of Trustees. Ben was a Gamesmaker vet at the equestrian events at London2012, is a trustee of the research charity the Animal Welfare Foundation, a member of the Advisory Board for the new University of Surrey Veterinary School and is a vice-president of the Federation of European Equine Veterinary Associations (FEEVA).
---
Miss Judy Scrine MA VetMB MRCVS
Clinical Director
Judy qualified from Cambridge in 1991 and worked for several years in mixed, mainly equine practice in North Yorkshire. Strength, enthusiasm and loyalty meant that Judy remained 'up north' far longer than Ben, but Ben tempted her to join the practice in 2001 and she became a partner in 2003.
Judy has an encyclopaedic knowledge and enjoys challenging medical cases, but her particular interest is lameness; its investigation, causes and treatment.
When off-duty, Judy attempts to keep fit with various endurance sports including cycling sportives and adventure marathons, the latter benefitting her interest in exotic travel and photography. And her crusade for raising much needed funds for Breast Cancer Now, the charity for which she does all her mad events. This year, going for 21 marathons in 2021.
---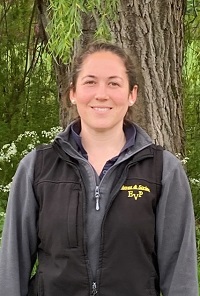 Debbie Jackson BVetMed MRCVS
Veterinary Surgeon
Debbie graduated from the Royal Veterinary College, London in 2017. Before starting university she was a full time riding instructor and yard manager, although she loved working with horses she wanted to do more for them, hence the decision to start vet school. Since graduating Debbie completed an internship at an equine clinic in Yorkshire where she gained valuable experience in varied hospital cases and anaesthesia. She then went on to work for that same practice as an ambulatory vet, doing equine and farm animal work before joining Mayes and Scrine in 2019. Debbie now enjoys all aspects of equine work with a particular interest in lameness.
In her spare time she enjoys playing rugby, a martial art called Sambo, walking her greyhound Winnie and riding her horse Salt.
---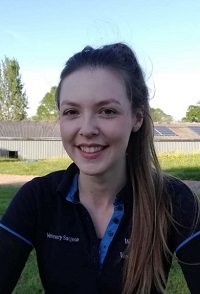 Catherine Ardern MRCVS BVMSci (Hons)
Veterinary Surgeon
Catherine joined the practice earlier this year having come from an internship with an equine hospital in Devon. She enjoys dealing with all aspects of equine veterinary work and has a particular interest in reproduction work and internal medicine.
In her spare time she enjoys socialising with her family and friends - eating out, cooking, entertaining and exploring the countryside with her dog Wilma.
.
---
---
M & S EVP Limited, Registered Office: Spitfire House, Aviator Court, York, YO30 4UZ Registered in England & Wales: 06620884 VAT Registration No. GB 228 9288 65